ANGLES LESSON PLAN
Directions:
Print the Angles reading and questions worksheet (see below).
Students should read the passage silently, then answer the questions. Teachers may also use the text as part of a classroom lesson plan.
Lesson Excerpt
Triangles are three-sided objects. All three sides are made up of angles. An angle is made up of two rays. These rays meet at a common endpoint.
There are different sizes, shapes, and angles for each triangle. Triangles can be classified in two ways. They can be classified by their angles or they can be classified by their shape.
Look at the following triangle. When you look at the following triangle what is your first thought? You have seen this shape more than once.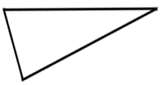 If you have ever been to a racetrack, the tiny flags throughout the course have this shape. You may have the same kind of flag on the back of your bike! The local high school or college banners you wave at football games have this shape, too.
You probably are not thinking about the size of each angle. Unless you are measuring something that requires the knowledge of finding the size of the angles, you may not pay attention to the angles at all.
Continued...

Lesson on finding the value of angles.

Print this worksheet for this lesson.
More Math Lesson Plans, Worksheets, and Activities
For more teaching material, lesson plans, lessons, and worksheets please go back to the InstructorWeb home page.